Follow the steps below on getting started with the BigOven SEO plugin.
1. Back up your database
Before using the "Import from ZipList" feature, be sure to back up your database. Why? When you click "Import from ZipList" (optional), it will migrate your data from ZipList format into the new recipe format, and also change existing links in your posts to the new data. This makes it a breeze to convert, but in doing so, it has to make irreversible changes to your data.
2. Install and activate the plugin
To download the plugin, visit https://wordpress.org/plugins/bigoven-recipes-menus-and-more/. After you've downloaded the plugin, find "BigOven - Recipes" in your Installed Plugins list and click "Activate."
3. Add your first recipe!
Look to the left hand side, and you'll see a new "Recipes" object type on your dashboard.  
This is where you add a new recipe.  You can also add the recipe via the new "Add Recipe" you'll notice at the top of the "Add New Post" window.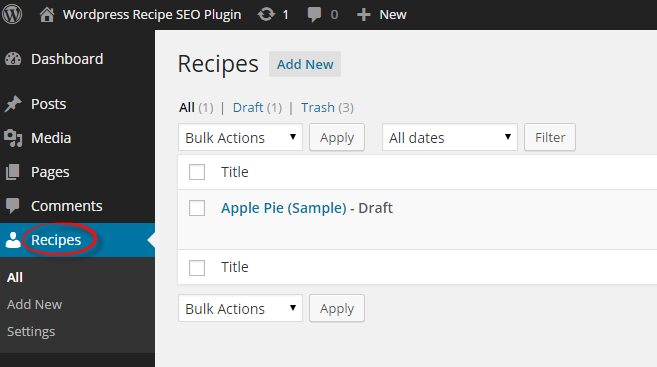 You can also add a recipe when you're in the Compose menu, simply by clicking "Add Recipe":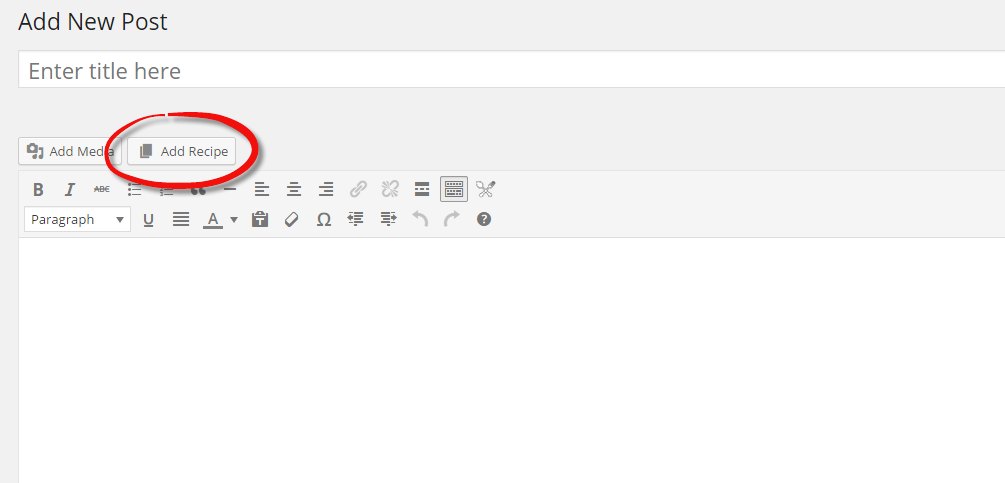 Adding a recipe brings up the recipe dialog editor. Here a few other key areas (more are in the "Advanced Settings" area):
Add the recipe's title
Add ingredients, press enter after each ingredient line
Enter instructions. In the Settings area, you can choose to make these automatically numbered
Add a summary for the recipe. This is included in the summary markup for Google Rich Snippets
Add a featured image. This image is included as the "hero" image for the recipe in Google Rich Snippets, and carries with you whenever you insert the recipe (via the Add Recipe button or directly via shortcode) into your posts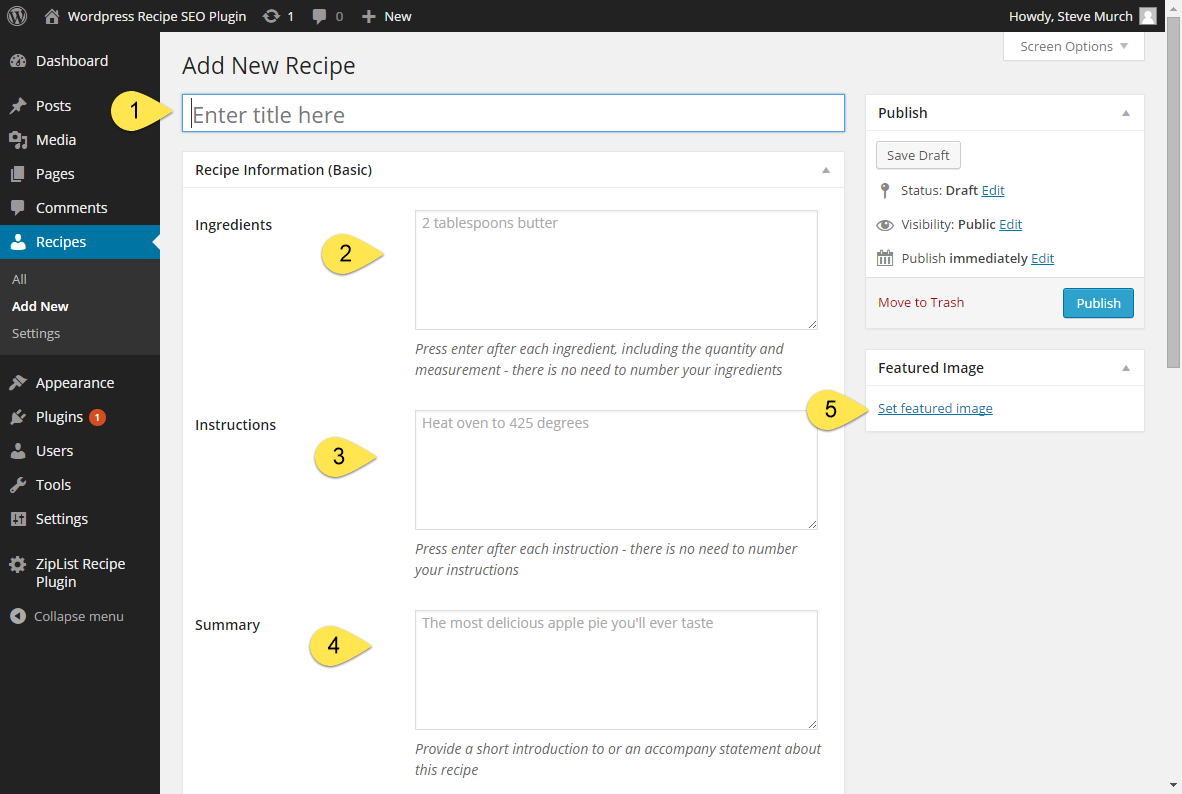 4. Choose Settings
In the Recipes panel on the left-hand side, choose Settings to bring up the Settings panel.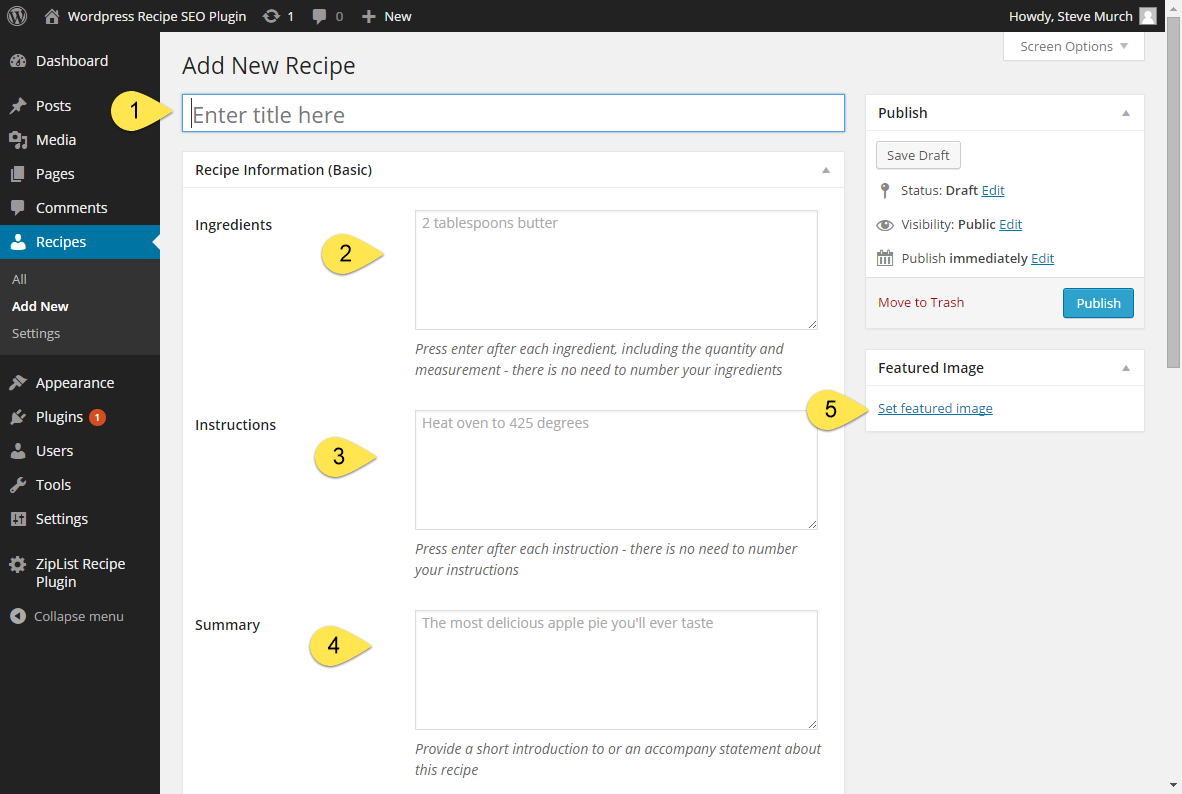 The Settings area lets you choose whether you'd like numbered instruction steps, whether you'd like to let readers save your recipes to a grocery list and/or their own recipe box, and (coming soon) whether you'd like BigOven's editors to consider featuring your recipes (with full link back to your site) on BigOven.com and in the mobile apps.  
BigOven.com gets several million visitors per month, and this can increase your blog's visibility and brand awareness if chosen. We're constantly looking for the best recipes on the web, and would be happy to consider your recipes for inclusion in our curated collections.
5. Import from ZipList (optional)
ZipList is shutting down their plugin support and save-recipe features on December 10th.  If you'd like to continue to offer your readers the "Save Recipe" and "Make Grocery List" features using the award-winning BigOven apps, we've provided an easy way to do it.
We insist that you first back up your blog's database, because the changes are irreversible. The import process will do two things: (1) Import all the Ziplist-formatted recipes into the new format, and (2) Change the shortcodes in your previous posts that reference Ziplist recipes to the new BigOven recipe shortcodes.
Making this change, particularly the second one, means that it will update your old posts. Fortunately, it's simple! But we really insist that you first create a backup copy of your data beforehand. We think you'll like the change, but the very last thing we'd want is for this conversion to happen and you not to have a way to say "no thanks." So, back up your database and then click "Import from ZipList", and then click "Let readers save your recipes."